Osborne's budget was expected to be harsh, but not quite the nasty piece of work we all heard yesterday afternoon. The Tory party have sharpened their axe, announcing £12bn in welfare cuts over the next five years, whilst handing out freebies to the super rich.

Here's our 12 point break-down of what was said in yesterday's Emergency Budget:

£12bn in welfare cuts are yet to come whilst only £5bn will be sought from tax evasion (of £70bn that is known to exist!)
Public sector pay increases will be limited to 1% which is below inflation
Corporation tax will be cut to 18% in the next two years
Working age benefits will be frozen for 4 years
There will be no additional working tax credits for families with more than two children, or USC, or housing benefits
The £26,000 benefit cap - the amount one household can claim in a year - will be cut to £23,000 in London and £20,000 in the rest of the country.
Maintenance grants for students - paid to students with family incomes below £42,000 - to be scrapped and converted into loans from 2016/17
All housing benefits for 18-21 year olds will be scrapped
Youth benefits systems will be overhauled with a "youth obligation on 18-21 year olds to 'earn or learn'"
Social housing rents will be heightened to market rate, if you are in work and earning more than £30k - whilst all other social housing rent will only be reduced by 1% in the next 4 years
A 'living wage' has been announced but not for another five years, and only for those over the age of 25 - at the same time as working tax credits will be cut by billions of pounds.
The minimum wage will supposedly rise to £7.20 p/hr but is not currently enforced (only 2 prosecutions in 5 years). This is unlikely to be different.
However - at the same time, more than 50 actions took place across the country as tens of thousands of us took to the streets to demonstrate to Osborne that we will not accept such horrendous measures - measures that isolate and cripple the most vulnerable and hardworking in our society, whilst giving those at the top and extra leg-up.

What's next?! At the start of October (3rd-8th), we are co-ordinating a week of action in the heart of Manchester surrounding the Tory Party Conference. This will be a week-long festival of resistance with performance, stunts, direct action and events, starting with a National Demonstration on

Sunday 4th October

. Now is the moment to spread word of our most ambitious and important next steps in this ever growing movement.

After all, there are many more of us than there are of them! Check it out:

Milton Keynes: Osborne's budget is (enormous) white elephant in the room!





Devon: Austerity Kills in Bedford Square!





Glasgow: Protesters take over streets to say Oxi to Osborne





Cardiff: Hundreds gather outside Cardiff Castle with quirky placards and solemn messages





Cornwall: Grim-Reaper Osborne unleashes deadly cuts outside local Conservative office





London: Up to a thousand people stage mass die-in and rally at Parliament Square (despite having our megaphones confiscated by police before we even began!)





Portsmouth: The Budget Tug of War!





Nottingham: Huge crowds make music and cry a noisy No to Austerity





Birmingham: "Not to Osborne's Budget" shout the people of Birmingham!





Bristol: Hundreds take part in mass die-in across city centre!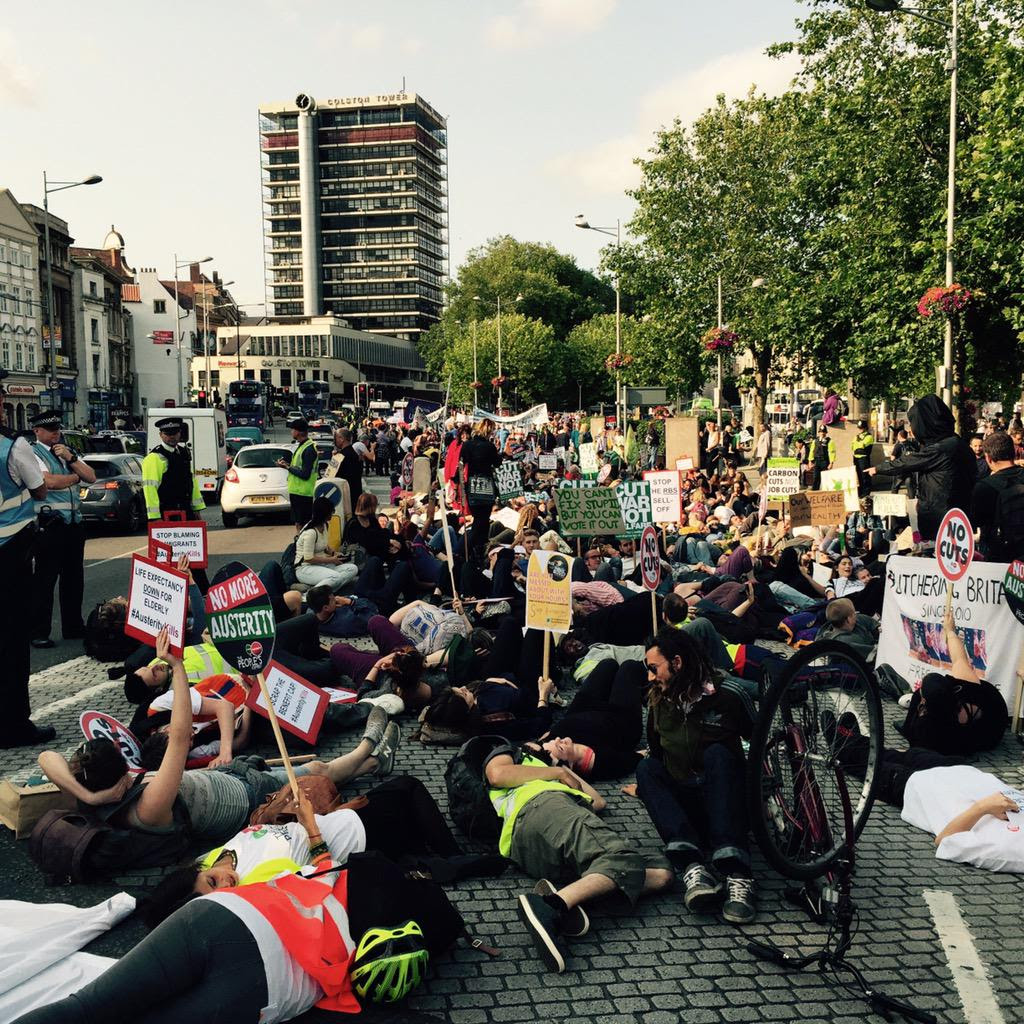 Northampton: Austerity kills!





Manchester: Major shopping centre reaches a stand still due mass demonstration





Edinburgh: "We stand with young people, disabled people, unemployed people - all of us together!"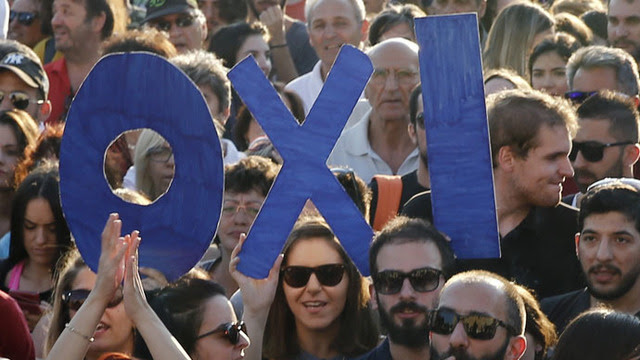 Bedford: Local Trades Council and unions show solidarity in town centre rally





Newcastle: Public Services Alliance and North East PA take to the streets





Middlesbrough: Grim stuff occurring on this demonstration!





Plymouth: Food bank collection goes down a storm!





London: City and Islington College UCU say 'OXI to Austerity'





Bradford: Tories cut, Bradford Bleeds..





Liverpool: More than 100 take to the streets in Liverpool city centre





Norwich: Norfolk People's Assembly occupy local job centre





Oxford: 150 nurses, workers, students and political activists descend on Oxford City Centre





London: Disabled People Against The Cuts activist group block Westminster Bridge with almighty sized banner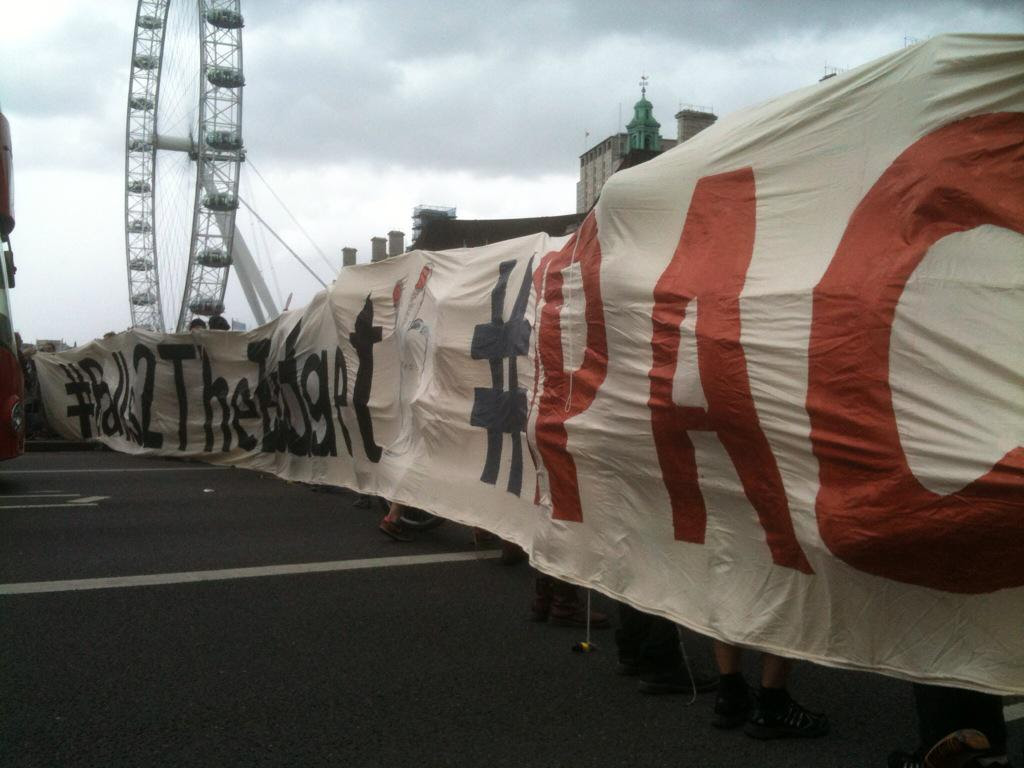 Not to mention all the incredible action in Chelmsford, Coventry, Darlington, Derby, Doncaster, Eastbourne, Exeter, Folkestone, Hull, Lincoln, Medway, Sheffield, Southampton, South-end-on-Sea, Stockton-on-Tees, Suffolk, Swindon, Taunton and York! (Apologies for not including your photos - we couldn't fit them all in!!)

What a day it was, and what a message we've sent. Congratulations to you all. Let's make this just the beginning!

Want to keep supporting the People's Assembly? Why not donate just £3 per month to help us double these numbers on our next day of action?

In solidarity,

The People's Assembly Against Austerity
http://www.thepeoplesassembly.org.uk/